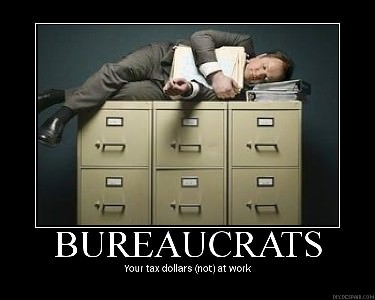 Mamas, don't let your babies grow up to be cowboys
Don't let 'em pick guitars and drive them old trucks
Make 'em be politicians, and bureaucrats and such
(My apologies to Willie)


From foxnews.com:
How did America become broke and insolvent? How did we build up an unimaginable $115 trillion in debt and unfunded liabilities? How did we allow the American Dream to become a nightmare?
All we need do is look at the primary demand the Eurozone and IMF are placing on hopelessly bankrupt Greece to get their new $170 Billion bailout -- Greece has agreed to cut 150,000 government employees. Even Cuba's leader Raul Castro recognizes government employees are at the root of economic destruction, as he is cutting over 2 million of them to save Cuba from bankruptcy.
The truth is that government employees are the true 1%. We have far too many of them (21 million), many of them are paid too much, and their union demands are straining taxpayers to the breaking point.
They have become a privileged class that expects to be treated superior to the taxpayers -- the same folks who pay their salaries and pensions. But it is their obscene pensions that are the big problem moving forward for America.
How would you like to retire with $6 million? $8 million? $10 million? All you have to do is become a government employee to hit the jackpot.
[These are the same people that sneer at you when you make them get out of their chairs to perform bureaucratic services for a passport or a drivers license … or such! - JS]